Precious metals round-up: Saturday April 7 2018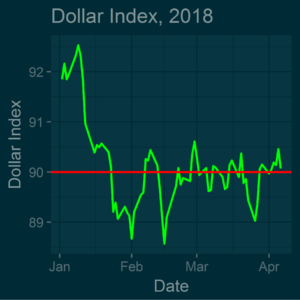 Friday was non-farm payrolls.  The figures weren't great, with 103,000 jobs created in March, well short of expectations.  The US economy is not quite as buoyant as some had hoped, and the dollar lost some ground.  The precious metals hardly moved, silver closing the week down a fraction at $16.36, gold up a fraction at $1,333.  The gold-silver ratio, at 81.45, remains in outlier territory, in the top percentile for the 21st Century.
At the same time, the commitment of traders (COT) report was bullish.  The commercials had increased their longs in both gold and both gold and silver, and reduced their shorts.  Managed money has done the opposite.  The commercials represent the large players, and they tend to be on the winning side of the trade.  Managed money, which includes hedge funds, are supposedly the perennial losers.
However, it seems unlikely that the precious metals can go up significantly without a fall in the dollar.  Since late January the dollar index has been trading within a tight range, close to the 90 mark.  Precious metal bulls needs the dollar index to go much lower, at least down to 85.  At that stage a break-out in gold and silver prices becomes distinctly possible.